Hair Relaxer Lawsuit | L'Oréal Through History
Posted on Thursday, June 15th, 2023 at 5:28 pm
Understanding a company under investigation
In 1909, chemist Eugène Schueller developed the first synthetic hair-color formula and launched Société française de teintures inoffensives pour cheveux (Safe Hair Dye Company of France). At the time, people generally used plant and animal products to make dyes, but dangerous methods like lead combs and sulfuric acid were also used to darken or lighten hair. Schueller began selling his safer synthetic version to hairdressers, and by 1914, L'Oréal sold its products in the Netherlands, Austria, and Italy. Schueller expanded from hair dyes into the rest of the beauty industry, and as his business flourished, he renamed the company L'Oréal, a pun on l'aureole, the French word for "halo" and the name of a popular hairstyle at the time. 
The cosmetics industry expanded significantly during the late 19th and early 20th centuries, as makeup became more socially acceptable and women began earning independent wages. The initial market was dominated by small businesses, many of them woman-owned. However, as demand—and therefore profits—continued to increase, larger corporations entered the market and instituted policies of wholesale bargaining with chain drug and department stores. These companies largely drove out the independent businesses, and by 1930, a handful of companies, including L'Oréal, controlled 40% of the industry. 
In the years leading up to World War II, Schueller, who was opposed to the newly elected leftist government in France, joined the anti-Semitic and fascist-leaning terrorist group La Cagoule. With his already-considerable fortune, he helped fund the group and held meetings at L'Oréal headquarters. After war broke out and France was occupied by German forces in the early 1940s, times were difficult for many cosmetics companies, and a number of Schueller's contemporaries in the industry, including celebrity hairdresser Antoni "Antoine" Cierplikowski, fled or were forced out of France. The individuals and companies who remained were often forced to cease production entirely. Les Parfums d'Isabey, which had recently received the gold medal at the iconic Exposition Internationale des Arts Décoratifs et Industriels Modernes, closed in 1941 and did not reopen until 2006, while cosmetics powerhouse Guerlain lost its factories to bombings and did not resume production until 1947. 
Coty, one of L'Oréal's French competitors, was shut down by the Vichy government during the war. Established in 1905, the cosmetics company oversaw a successful range of perfumes, face powders, lipsticks, cosmetics, and skin care and had established subsidiaries in Moscow, London, and New York by 1940. After the capture of France in June of that year, company owner Yvonne Cotnareanu fled with her husband Leon, who was Jewish, to New York City. Meanwhile, under chairman Grover A. Whalen (who was instrumental in helping the Cotnareanus flee the country) Coty operations in France were suspended until they were adequately "aryanised." Coty was not the only company to face shutdown due to political leanings—in Germany, the large Wella brand, whose founders opposed National Socialism, had their plant taken over to make equipment for submarines.  
Schueller, however, faced no such barriers, leveraging his right-wing connections through La Cagoule to work closely with the Vichy government. During the occupation, his business flourished: L'Oréal's sales nearly quadrupled from 1940 to 1944, and tax returns show that Schueller's personal net income increased by nearly tenfold. SS official Helmut Knochen, who was responsible for the executions of thousands of French citizens, the deportation of French Jews to concentration camps, and the torture of resistance agents, listed Schueller as a "voluntary collaborator." In a list Knochen drew up in 1941, he named Schueller as the future minister of "National and Imperial Production."  
After the war, Schueller was charged with economic and political collaboration by the Court of Justice of the Department of the Seine, one of a number of courts set up to investigate the activities of businesses during the occupation. Schueller was not convicted on the grounds that the merchandise he sold was "of no direct military interest" and called upon witnesses who asserted that he had secretly financed the Resistance and sheltered Jewish employees. The judge recommended all charges be dropped, and he remained in charge of L'Oréal. 
In the years after the war, Schueller hired a number of supporters of the Vichy regime to prominent executive positions at the company, including Louis Deloncle, the son of the head of La Cagoule, and Jacques Correze, who was imprisoned after the war for working with the Gestapo during the occupation despite claims he had secretly worked with the Resistance. Correze gained renewed notoriety in 1991 when claims surfaced that, as chairman of L'Oréal's marketing arm, he pressured a Jewish executive to resign from the board of a subsidiary in order to avoid a boycott by Arabic countries. 
On L'Oréal's website, this era in Schueller's life is summarized succinctly: 
Schueller excelled in advertising. From the outset, he surrounded himself with the best poster designers of the 1930s. He created a radio jingle and in 1933 released Votre Beauté magazine, which built a readership of over a million women. His creativity and entrepreneurial spirit also secured him an "Advertising Oscar" in 1953, by which time L'Oréal was setting the standard in the beauty industry and had secured a loyal following among its target audiences. 
In 2001, a woman named Edith Rosenfelder, whose mother died in a Nazi concentration camp, sued a German insurance company and L'Oréal for purchasing a piece of land that had been seized from her family. Rosenfelder holds that her father, who also died during the war, was forced to sign over the property to a Nazi-owned insurance company. Although German restitution laws at the time mandated that property seized from Jewish owners during the Nazi era be returned to their rightful owners, the company then sold the property to Schueller, who constructed the headquarters of L'Oréal Allemagne on the site and later sold the property to a German governmental agency. L'Oréal holds that the family was compensated by the Jewish Restitution Successor Organisation in 1951, but the Rosenfelders say they never received the money. The family had originally signed over power of attorney when they fled the country. In 2004, the courts decided against the Rosenfelders on the grounds that the intermediary had the right to sell the property. 
By 1950, five years after the end of the war, L'Oréal was the world's ninth-largest personal care company and one of only three non-U.S.-based brands in the top 20. WWII had led millions of women to enter the workforce, providing them with greater independence and purchasing power and spurring a dramatic increase in spending on cosmetics. As part of the industry-wide concentration trend, the company purchased a number of small, family-owned cosmetics companies in France, including Lancôme and Garnier. By the early 1960s, L'Oréal sold in 60 countries and manufactured in nearly 30, but two-thirds of their revenue remained generated in France.  
By 1977, L'Oréal was the fifth-largest beauty company in the world. They had struggled for decades to build significant business in the U.S., forming Cosmair in 1953 to distribute products to beauty salons but finding only moderate success. In the early 1980s, however, they convinced Macy's to provide the expensive Lancôme brand with the same amount of space as products from Estee Lauder, boosting sales of the brand by 25% in one year. 
Today, L'Oréal is the largest cosmetics company in the world, with a market capitalization of $254.3 billion. They sell over 500 brands and thousands of products, including makeup, fragrances, hair dyes, cleansers, hair styling products, and body and skin care. In 2021 they employed more than 85,000 people worldwide and had a reported revenue of $32.2 billion with a net income of $4.6 billion.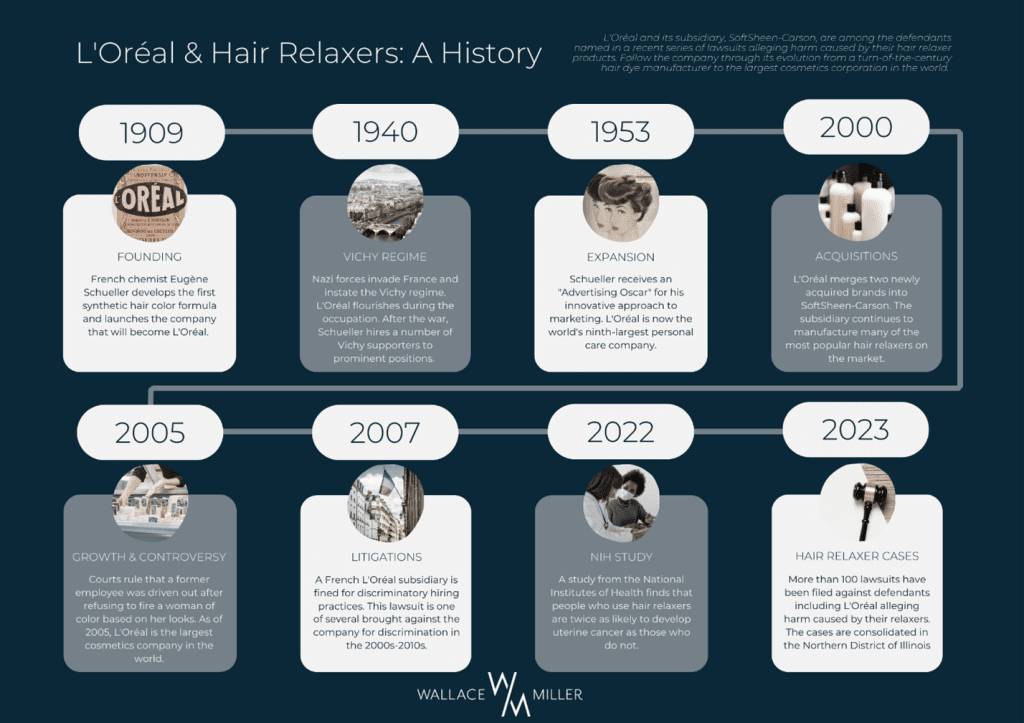 Recent controversies
L'Oréal has been named in several other lawsuits over the past two decades, including over their treatment of employees of color. In 2005, the Supreme Court of the City and County of San Francisco ruled that Elysa J. Yanowitz, a former regional sales manager at L'Oréal, was illegally driven out of her job after she refused to fire a sales associate of color based on her appearance. Senior executive Jack Wiswall, who was then the general manager of the designer fragrance division, visited Yanowitz's workplace and, after encountering an Iranian salesperson described in the suit as "dark-skinned," told Yanowitz to fire her because she was "not good looking enough." The testimony states that when he learned that Yanowitz had not fired the woman, he pointed to a "young attractive blonde girl, very sexy" and told her, "Get me one that looks like that." Yanowitz asked if there was adequate justification for firing the salesperson, and when none was provided, again did not fire her. As a result, Wiswall and other executives actively solicited negative feedback from Yanowitz's colleagues and created an environment of such intense hostility that Yanowitz took a leave of disability and later quit the company. L'Oréal claims that the increased scrutiny of Yanowitz was a result of poor performance, although the year before she was named the sales manager of the year. Wiswall retired from L'Oréal in 2006 and later worked as the chief operating officer of Bond No. 9, where he continued to be influential in the cosmetics industry, appearing in photos with Ivanka Trump in 2011. 
A 2007 lawsuit found that Garnier France, a L'Oréal subsidiary, collaborated to exclude all applicants of Arab, Asian, or African backgrounds from a position promoting new products. An internal fax specified that women hired should be "BBR," or "bleu, blanc, rouge," a term that prosecutors successfully argued was far-right shorthand known amongst employers to mean "white French people only." The company was fined 30,000 euros and an employee at the hiring firm received a three-month suspended prison sentence. The case marked the first time a major company in France was found guilty of systematic race discrimination. 
In 2017, L'Oréal again sparked controversy when they fired Munroe Bergdorf, a Black trans model who had been hired as the face of a L'Oréal U.K. campaign, over a Facebook post she made in response to the Unite the Right rally in Charlottesville, Virginia. In the post, Bergdorf wrote, "Honestly I don't have energy to talk about the racial violence of white people any more. Yes ALL white people. Because most of ya'll don't even realise or refuse to acknowledge that your existence, privilege and success as a race is built on the backs, blood and death of people of colour." The organization dropped her from the campaign after her statement was published in the Daily Mail, stating it believed her comments were "at odds" with its mission. Three years later, L'Oréal made a post in support of the Black Lives Matter movement, posting on social media, "Speaking out is worth it." Bergdorf wrote online that she was disgusted by the hypocrisy of the post and accused L'Oréal of jumping on the bandwagon of changing public opinion. Per a L'Oréal employee, the CEO only released a statement in response after days of intense internal discussion. Eventually, L'Oréal reached out to Bergdorf and has since rehired her to sit on the newly formed U.K. Diversity & Inclusion Advisory Board. "While what happened 3 years ago was extremely traumatic for me personally and professionally," the model wrote, "sitting on a board to provide a voice and a champion for black, trans and queer voices in the beauty industry is important to me." 
In 2018, L'Oréal's former vice president of marketing, Amanda Johnson, sued the company for racial discrimination. Her claims state that she experienced racist hostility from the highest levels of management and that her boss, Daniel Bethelmy-Rada, threw "sex-fueled parties" during work trips and watched porn during a meeting. Johnson also felt physically threatened by fellow vice president Nicholas Krafft, and her suit claims that when she filed an official complaint against him, she was fired in retaliation. L'Oréal eventually won the suit on the grounds that Johnson was terminated based on performance issues. During the litigation, they acknowledged that comments made by executives were racially charged but were unrelated to the case.  
In 2021, beauty industry watchdog Estée Laundry reported that more than 50 individuals had come forward detailing their negative experiences working at L'Oréal, which included racial discrimination and a toxic work environment. One employee, who is Latina, was asked that she not speak Spanish at work because her boss was worried she might be gossiping about her. Another employee, Sehar Aqeel, filed an HR complaint after experiencing intense workplace pressure and repeated racist comments. The company, after an internal investigation, determined her claim was "unfounded." L'Oréal eventually fired her, claiming that her lack of attendance at one of her year-end meetings was "insubordination." Aqeel provided evidence that she attended the first year-end meeting, after which she informed her supervisors that she would not attend the second unless it was recorded or a woman of color was present. The company refused her requests, and ultimately Aqeel was terminated. Afterwards, L'Oréal denied her disability insurance claim. 
L'Oréal and hair relaxers
The first hair relaxers or perms—products that change the texture of hair to make it straighter, used mostly by Black women—were developed by renowned Black inventor Garret Morgan in 1913. Commercialized by Dark & Lovely (now owned by L'Oréal) in 1971, they contained sodium hydroxide, water, petroleum jelly, mineral oil, emulsifiers, and lye. In response to complaints that the products were harmful to users, no-lye treatments were developed in the early 1980s and marketed as safer and gentler on the hair and scalp. In the late 1990s and early 2000s, L'Oréal acquired major hair relaxer manufacturers SoftSheen and Carson Products and combined them into SoftSheen-Carson. The subsidiary produces several of the most successful hair relaxing products on the market, including Dark & Lovely and Optimum Care. 
In 2022, the National Institutes of Health published a landmark study that demonstrated a connection between hair relaxers and a variety of significant health problems. Since that study was released, more than 100 women have come forward with claims that these products, including those manufactured by L'Oréal and its subsidiaries, cause uterine fibroids, endometriosis, and uterine and ovarian cancer. The plaintiffs claim that L'Oréal either knew or should have known that their products could cause harm and had a duty to warn consumers about the potential risks. In a statement to NBC Chicago, L'Oréal said, "We are confident in the safety of our products and believe the recent lawsuits filed against us have no merit." 
L'Oréal's Code of Ethics states, "When there is a debate about the safety or environmental impact of an ingredient, we monitor this closely and work with our stakeholders to investigate further. If there is a proven or strongly suspected risk, we will stop using it, whatever the cost." The company's hair relaxer products, including those sold by its subsidiary SoftSheen-Carson, are still on the market as of May 2023. 
To date, more than 100 lawsuits have been filed against defendants including L'Oréal for injuries related to the prolonged use of hair relaxers. In February 2023, these lawsuits were consolidated into a multi-district litigation in the Northern District of Illinois under US District Judge Mary Rowland. 
Wallace Miller is committed to fighting for the rights of victims of negligence and fraud. If you or a loved one has been harmed by toxic hair relaxers, contact us at 312-261-6193 or fill out our online questionnaire  to evaluate your case right now.